Summer BBQ's - Food, Family and Flooring
Blog > Summer BBQ's - food, family and flooring
Summer BBQ's - Food, Family and Flooring
Monday, July 10, 2023

---

The days are longer, the weather is warmer, and the kids are out of school.

You know what that means.

It's time to fire up those BBQs and start planning those pool parties, because summer is officially upon us. More food. More family time. More fun, right?

Not necessarily for your floors.

There's a lot to consider when purchasing flooring. Aesthetics are usually near the top of the list, and rightfully so. After all, you're going to see your floors every single day — as are your guests. So, you better make sure you like the way they look. Affordability is always part of the equation, especially considering the realities of today's financial climate. But it's also important to understand how to select durable flooring that can withstand the summer months, so your floors don't start to deteriorate sooner than you might have anticipated.

While this may not be top of mind at the time of your purchase, it could be the most important factor that contributes to the life expectancy of your floor, saving you money in the long run.

So, which floors can handle the heat, so to speak?

Read on to find out.

How might the summer impact my flooring?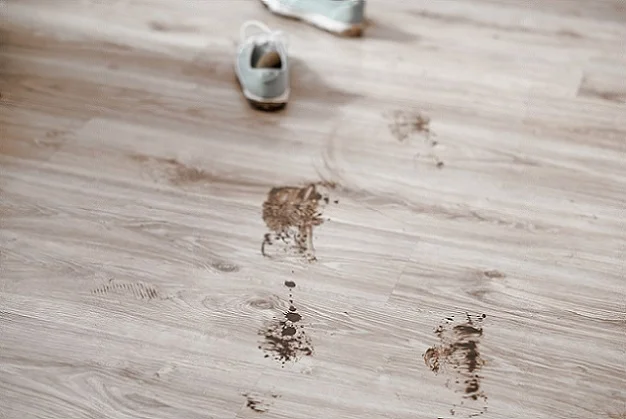 It's not overly complicated: more foot traffic leads to more wear and tear.

So, if you like hosting summer BBQs or similar types of gatherings, that's likely going to mean more trips to the kitchen. Yes, more trips to the bathroom. And, as a result, more strain on your floors.

OK, maybe it's a little more complicated.

As the foot traffic in your home increases, your floors are naturally going to be exposed to more dirt, dust, and debris. It's unavoidable. It could be something as simple as your kids or pets playing outside and tracking dirt into your home, without anyone even realizing it. While this may seem relatively harmless, dirt and dust are actually very sharp particles that can permanently damage some floors over time in the form of scratches, abrasions, and discoloration, as per the Hardwood Floors Magazine.

Another factor to consider is water damage.

If you have a pool in your home, chances are the kids (and even the adults) will be leaving water trails en route to the dinner table and other surrounding areas. Or, if your region is experiencing high levels of humidity, your floors could absorb the increased moisture in the air. In either case, this can lead to warping, mold growth, and other challenges for certain materials.

What are the most durable types of flooring?

Now that you know the risks, let's talk about which types of flooring are least likely to be affected.

Overall, tile is the highest-rated flooring for durability, as per tests conducted by Consumer Reports. Scoring particularly well is porcelain tile, a high-density, clay-based tile that is both scratch and stain resistant. Often found in kitchens and bathrooms, porcelain tile also has a water absorption rate of 0.5% or lower, according to ASTM standards, making it almost "impervious" to water. A slightly less durable, but more affordable and easier-to-install option is ceramic tile.

If tile isn't for you, luxury vinyl and laminate flooring are also more than suitable for high-traffic areas. Both are made up of several layers of material, including a protective "wear layer" that will help minimize wear and tear and extend the longevity of your floor. All types of vinyl are considered water-resistant at the very least, while some products are entirely waterproof. Laminate flooring, on the other hand, could be a bit more susceptible to water damage.

A common theme for each of these types of materials is their ability to mimic the look of other classic flooring, such as hardwood and stone, while coming in at a lower price point. So, if you're looking for a budget-friendly option that's both durable and stylish, these floors might be your best bet.

Wait, what about hardwood?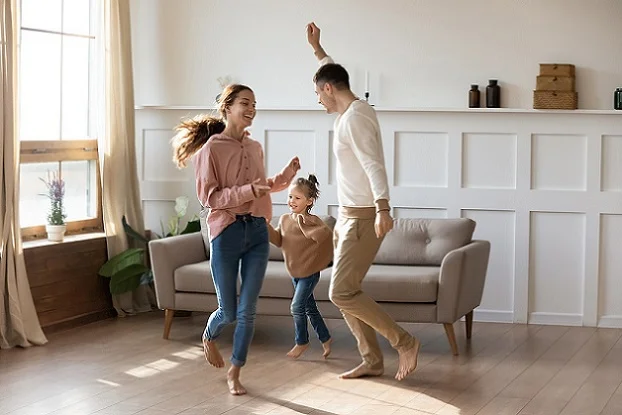 It's no secret that hardwood is one of the most popular flooring options on the market.

You can understand why.

These are timeless, elegant, and highly versatile floors that can't be matched from an aesthetics perspective. The school of thought is: instead of getting a floor that tries to mimic the look of hardwood, why not get the real thing? Although one of the more expensive options out there, hardwood is likely to provide a better return on investment than most other floors in the event you sell your home, as per the National Association of Realtors.

At the same time, hardwood is much more prone to scratches, dents, and water damage due to its porous nature. So, in high-traffic areas that are frequently exposed to moisture, you can definitely expect some wear and tear. But here's the thing with hardwood: it can be sanded and refinished multiple times to restore any imperfections and maintain its natural appearance. With proper care, it can be one of the longest-lasting flooring options with a lifespan of up to 100 years.

If your heart is set on hardwood, you might want to consider oak, hickory, or maple, which are among the most durable options as per the Janka Test, which measures the hardness of woods and their ability to withstand force. You can also opt for engineered wood, a more affordable and water-resistant floor that has a thin layer of hardwood on the surface coupled with a plywood base. But since engineered wood can't be refinished as much, a 100% hardwood floor will still have a longer lifespan.

So, there you have it.

In many cases, choosing flooring can be a forever decision. If you consider these factors and pick a durable floor that's right for your personal situation, it's a decision that you won't regret.

Bio:
Farhan Devji is a published author and content writer who's written for some of Canada's biggest newspapers and worked in communications/marketing for close to a decade. His new book, Alphonso Davies: A New Hope, was published in May 2023 with ECW Press.